Now You Know introduces the most modern design in chiropractic websites! We are now offering 'custom' sites for chiropractic associations for FREE! Current NYK customers may also choose to upgrade their current website to these new themes. Check out all the new features for associations that we have to offer!

A new, modern and professional design built to your specifications. We "custom" your new site!
Our webmasters will work with your association one-on-one to come up with the best site design for your association. This is different from our regular customers who choose from the pre-made adjustable themes we offer, instead, we will work around what features you're looking for to create something entirely unique. Want a 3 column design, 2 column design, or remove the sidebar all together?
Better search engine optimization -- rank higher on the search engines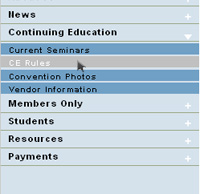 Moving away from frame based designs of the past, we offer more modern design options that search engines are much more able to crawl. Along with this, our new themes are specifically coded with the latest technology that makes them much friendlier to search engines, in general. We will do our best to optimize your site personally and also supply tips to help manage your new website.

New menu system and layout making your site easier to navigate
We now offer many new options for navigating your website. We can do a traditional sidebar navigation, or a top menu system, even a combination of both. Many of our association customers enjoy the freedom of being able to create 'categories' for their links so doctors can easily navigate their pages. We do our best to personally make sure your website is entirely user-friendly! Want to to do a left or right side bar navigation, we can do it! No top navigation, let's remove it! The choice is yours!
More freedom in editing all content via NYKC, minimizing need for change requests and the ability to upload and modify images yourself!
One of the new features available to all NYK customers is the ability to manage and insert images into your documents yourself! Also, we know most associations use a lot more content than many of our regular customers so we can make sure to easily organize all documents to make managing your new website much easier. We will also personally give you instruction on how best to execute the documents in your NYKC account and how to make managing your website easier! Though, we are still here to assist with any changes you may have in the future!

Brand new Find-A-Doctor application which incorporates Google map directions directly into your new design!
We have updated the Find-A-Doctor script to allow easy management from your NYKC contacts. We also included a new feature to incorporate Google maps into the application which allows visitors to find directions and further contact information on any doctor in your system. Plus, it's much more stylish!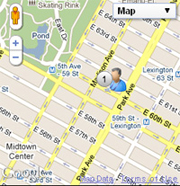 Pay Membership Dues Online (Authorize.net & Paypal Integration)
Many of our associations have decided to create forms to authorize due payments, we can definitely work this out for you, simply by using systems like Authorize.net and Paypal.
Check out one of our association's live payment systems!
Social Networking Optimization
We can also work your Facebook, Twitter, and LinkedIn links into your design.
And More!
Contact us page
Google Calendar embed
Photo Galleries/Slideshows
Header Slideshows
Members Only Sections
Sponsor Logos/Buttons
Location Map
Want more? Check out some of our associatons below!